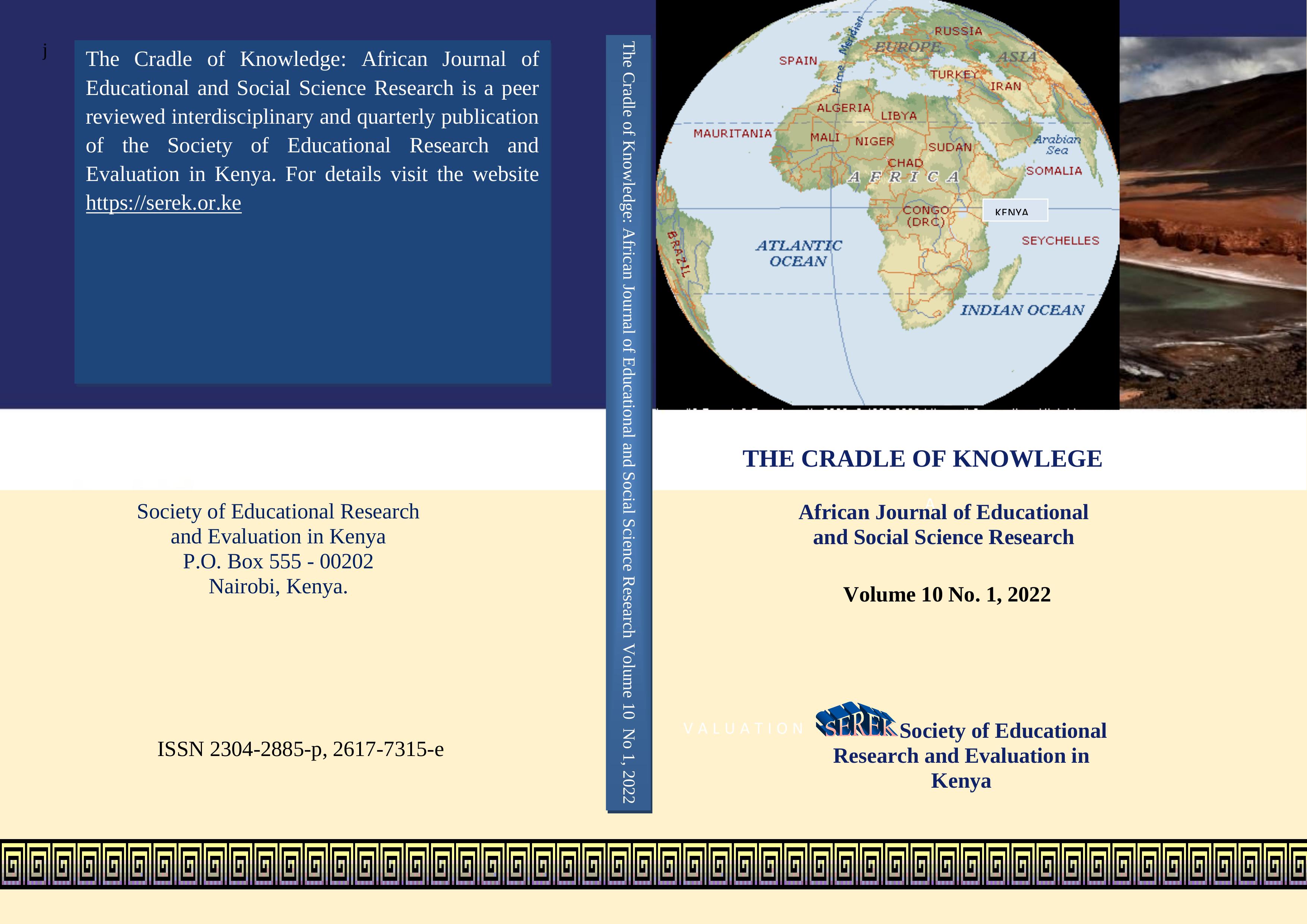 Career Development Prospects on Retention of Teachers in Public Secondary Schools in Kenya
Abstract
This study sought to investigate the influence of career development prospects on retention of teachers   in public secondary schools in Kathonzweni Sub County, Makueni County, Kenya. The study objective sought to investigate the influence of career development practices on retention of teachers in public secondary schools in Kathonweni Sub-County. The study adopted descriptive survey research design. The target population consisted of all 791 teachers from Kathozweni Sub County. Proportionate sampling technique was used to select 117 teachers. Data was collected using questionnaires. Quantitative data was analyzed using descriptive and inferential statistics with the aid of SPSS (Statistical Package for Social Science) Software and presented using cross tabulation tables and pie charts. The Pearson correlation coefficient was used to analyze inferential data. The set level of significance was 0.05. From the findings, career development practices had a positive relationship with teachers. The average mean of positive responses was 3.4. This implied that most of the teachers agreed with most of the statements though the answers differed as shown in the standard deviation of 1.0. The results also showed that career development practices were positively and significantly related (β=0.589ρ=0.00). In conclusion career management increases work performance of employees and motivates workers to want to stay. This study is significant to various stakeholders in determining the best motivational techniques for use in order to improve teacher performance and retention in their schools. The study recommends training of teacher trainers on career development procedures with the aim of guiding and developing teacher's career in their schools.                    

Key words: Career development practices, teachers' retention, public secondary schools
References
Bicaj, A., & Treska, T. (2014). The effect of teacher professional development in raising the quality of teaching in Pakistan. Academic Journal of Interdisciplinary Studies, 3(6), 369.
Kageha, Z. A. (2014). The effect of motivation on teachers' performance and its Impact on K.C.S.E results: A case of Tiriki West Division, Vihiga District, Kenya. Unpublished M. Ed Project. Kenyatta University.
Klassen, R. M. and Anderson, C. J. K. (2017). How times change: secondary teachers' job satisfaction and dissatisfaction in 1962 and 2007. British Educational Research Journal, 32, 857–874.
Mark, L & Kdulwa, J. (2018). Effect of career development programs on employee performance in Kenya. A case of national hospital insurance fund. International Journal of Social Sciences and Information Technology, IV, 693-709
Nyambura, N., & Kamara, J. (2017). Influence of Career Development Practices on Employee Retention in Public Universities-A Case of Technical University of Kenya. Journal of Strategic Business and Change Management, 4(30), 510-522.
Orina, O. J. (2015). The factors that affect mathematics teachers' motivation level in public secondary schools in Nyamusi Division. Nyamira district, Kenya. Unpublished M. Ed project, University of Nairobi.
Weem J.H., Ajbar T.Y. (2014). Effect of monetary rewards on teacher's satisfaction in Texan Catholic Schools. Journal of Education.6 (1), 37.
Refbacks
There are currently no refbacks.
This work is licensed under a
Creative Commons Attribution 4.0 International License
.
SEREK publication
https://serek.or.ke
This work is licensed under a Creative Commons Attribution 4.0 International License