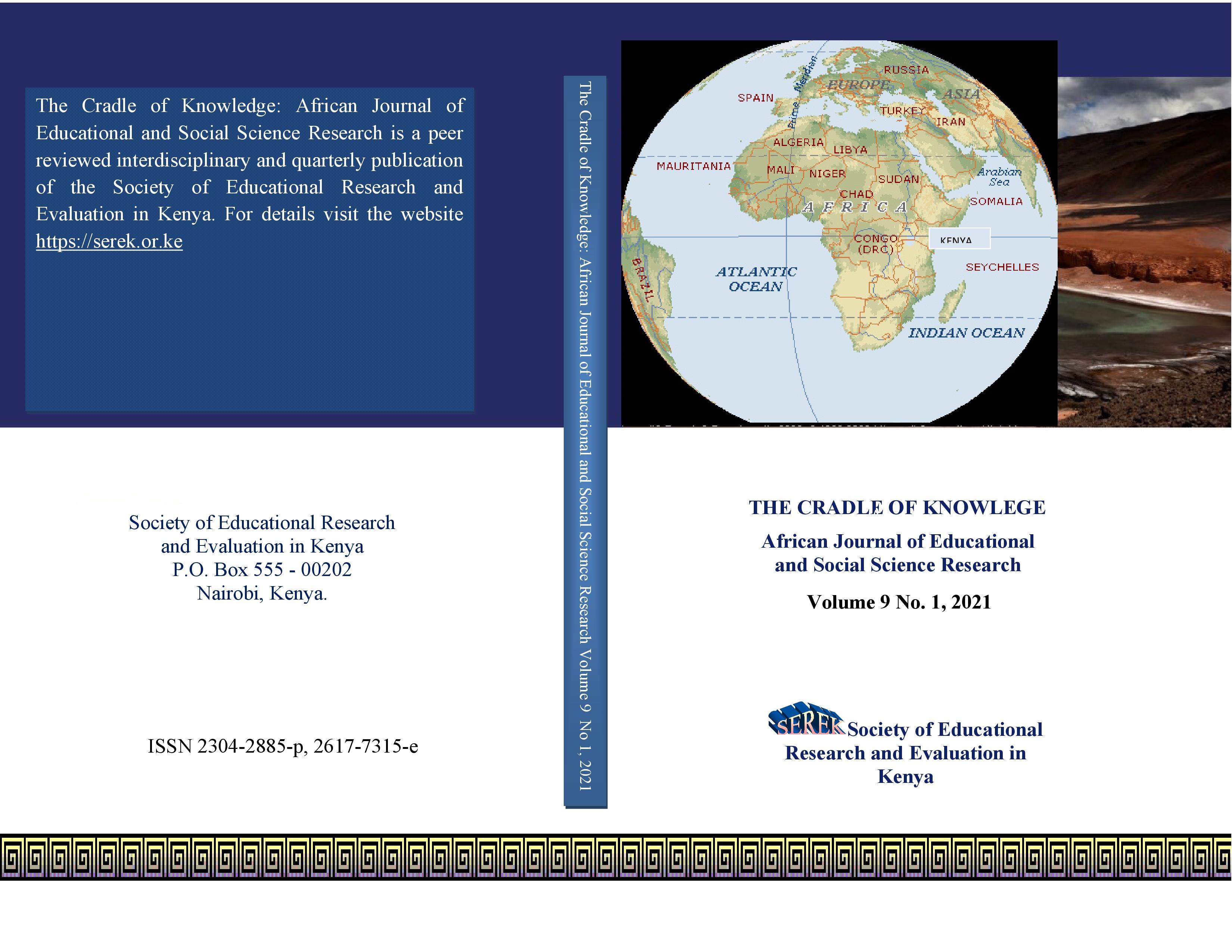 Challenges and Opportunities in Curriculum Monitoring and Evaluation During Covid-19 Pandemic in Kenya
Abstract
Sustainable Development Goal number four envisions provision of quality education and training. Curriculum monitoring and evaluation is a vital exercise that undergirds and guides delivery of quality education. However, the COVID-19 pandemic posed diverse challenges, while presenting unique opportunities in curriculum monitoring and evaluation. This paper examines the opportunities and challenges in curriculum monitoring and evaluation in Kenya during the COVID-19 pandemic. Specifically, it addresses the necessity for curriculum monitoring and evaluation for education quality, discusses the challenges in monitoring and evaluation of the curriculum process during COVID-19 pandemic, and finally examines the opportunities availed in curriculum monitoring and evaluation. This being a theoretical study, the methodology used included review and synthesis of secondary data materials. The authors find that the challenges caused by COVID-19 included disruption of internal assessments, inequalities in learner assessment, postponement of national examinations, interruption of talent assessment from co-curricular activities, and inability of external monitoring officials to visit schools for monitoring exercise. The opportunities presented through COVID-19 pandemic included embracing use of digital platforms in evaluation, opportunity to address inequalities in access to education, and opportunity for investment in ICT. The paper gives recommendations with a view to develop resilience, as well as enhance efficiency in educational strategies by addressing the challenges and leveraging on opportunities.
Keywords: Curriculum, COVID-19, Opportunities and Challenges, Monitoring and Evaluation
References
Akat, M., & Karataş, K. (2020). Psychological Effects of COVID-19 Pandemic on Society and Its Reflections on
Education. Electronic Turkish Studies, 15(4), 1-13.
Areba, G. N. (2020). COVID-19 Pandemic Impact on Kenyan Education Sector: Learner
Challenges and Mitigations. Journal of Research Innovation and Implications in Education. 4(2). 128-139
Bishnoi, M. M., & Suraj, S. (2020). Challenges and Implications of Technological Transitions:
The Case of Online Examinations in India. In 2020 IEEE 15th International Conference on Industrial and Information Systems (ICIIS) (pp. 540-545). IEEE.
Daniel, J. (2020). Education and the COVID-19 Pandemic. Prospects 49, 91–96.
https://doi.org/10.1007/s11125-020-09464-3
Dias, M. D. O., Lopes, R. D. O. A., & Teles, A. C. (2020). Will virtual replace classroom teaching? Lessons from
virtual classes via zoom in the times of COVID-19. Journal of Advances in Education and Philosophy, 4(05), 208-213
Elliott, S.N., Kratochwill, T.R., Littlefield Cook, J. & Travers, J. (2000). Educational psychology: Effective teaching,
effective learning (3rd ed.). Boston, MA: McGraw-Hill College
Hughes, P. (2001, February). The monitoring and evaluation of curriculum reforms. In Final Report of the Muscat
Seminar on the Management of Curriculum Adaptation for Curriculum Specialists in the Persian Gulf Region (pp. 53-59).
Jandra, M., Huda, M., & Maseleno, A. (2020). Inequalities in access of learning in primary school: Voices from
children with special needs. International Journal of Psychosocial Rehabilitation, 24(1).
Jantjies, M. (2020). How South Africa can address digital inequalities in e-learning. The Conversation.,
http://theconversation. com.
Kiugu, D. K. (2020). Preparedness for Implementation of Integration of Digital Learning in Public Primary Schools
in Meru County, Kenya. Doctoral dissertation, Kenya Methodist University.
Khare, A & Lam, H. (2008). Assessing Student Achievement and Progress with Online
Examinations: Some Pedagogical and Technical Issues. International Journal on E-learning, 7(3), 383-402.
Lembani, R., Gunter, A., Breines, M., & Dalu, M. T. B. (2020). The same course, different access:
the digital divide between urban and rural distance education students in South Africa. Journal of Geography in Higher Education, 44(1), 70-84.
Madhav, N., Oppenheim, B., Gallivan, M., Mulembakani, P., Rubin, E., & Wolfe, N. (2017).
Pandemics: risks, impacts, and mitigation. Available at World bank group e-library https://elibrary.worldbank.org/doi/abs/10.1596/978-1-4648-0527-1_ch17
Nicola, M., Alsafi, Z., Sohrabi, C., Kerwan, A., Al-Jabir, A., Iosifidis, C., ... & Agha, R. (2020).
The socio-economic implications of the coronavirus pandemic (Covid-19): A review. International Journal of Surgery (London, England), 78, 185.
Ogula, P.A. (2016). Monitoring and Evaluation of Educational Projects and Programmes: A manual for Evaluators
of Educational Programmes. Nairobi: Mwenge Academic Publishers.
Ogunode, N. J. (2020). Effects of COVID-19 Schools Close Down on Academic Programme of Senior Secondary
Schools in Abaji Area Council of Federal Capital Territory Abuja, Nigeria. Electronic Research Journal of Social Sciences and Humanities. 2(2), 84-94.
Ornstein, A.C & Hunkins, F.P. (2009). Curriculum: Foundations, Principles and Issues. Boston: Pearson Education.
Inc
Parnell, D., Widdop, P., Bond, A., & Wilson, R. (2020). COVID-19, networks and sport. Managing Sport and Leisure,
-7.
Quay, J. (2003). The Experience and Participation: Relating Theories of Learning. Journal of Experiential Education,
(2), 105.
Robles, M., & Braathen, S. (2002). Online assessment techniques. Delta Pi Epsilon Journal, 44(1),
-49.
Sintema, E. J. (2020). Effect of COVID-19 on the performance of grade 12 students: Implications for STEM education.
Eurasia Journal of Mathematics, Science and Technology Education, 16(7), em1851.
Son, C., Hegde, S., Smith, A., Wang, X., & Sasangohar, F. (2020). Effects of COVID-19 on college students' mental
health in the United States: Interview survey study. Journal of medical internet research, 22(9), e21279.
Tabakin, A. L., Patel, H. V., & Singer, E. A. (2021). Lessons learned from the COVID-19
pandemic: a call for a national video-based curriculum for urology residents. Journal of Surgical Education, 78(1), 324-326.
Tekin, P. S., Ilgaz, H., Yildirim, D., & Adanır, G. A. (2020). Flipping e-Learning for teaching medical terminology:
a study of learners' online experiences and perceptions. Official Journal of Online Learning Consortium, 24 (2)
UNESCO (2020). Education: From disruption to recovery. Available at
https://en.unesco.org/COVID19/educationresponse
Wotela, K. (2017). A proposed monitoring and evaluation curriculum based on a model that institutionalizes
monitoring and evaluation. African Evaluation Journal, 5(1), 1-8.
Refbacks
There are currently no refbacks.
This work is licensed under a
Creative Commons Attribution 4.0 International License
.
SEREK publication
https://serek.or.ke
This work is licensed under a Creative Commons Attribution 4.0 International License