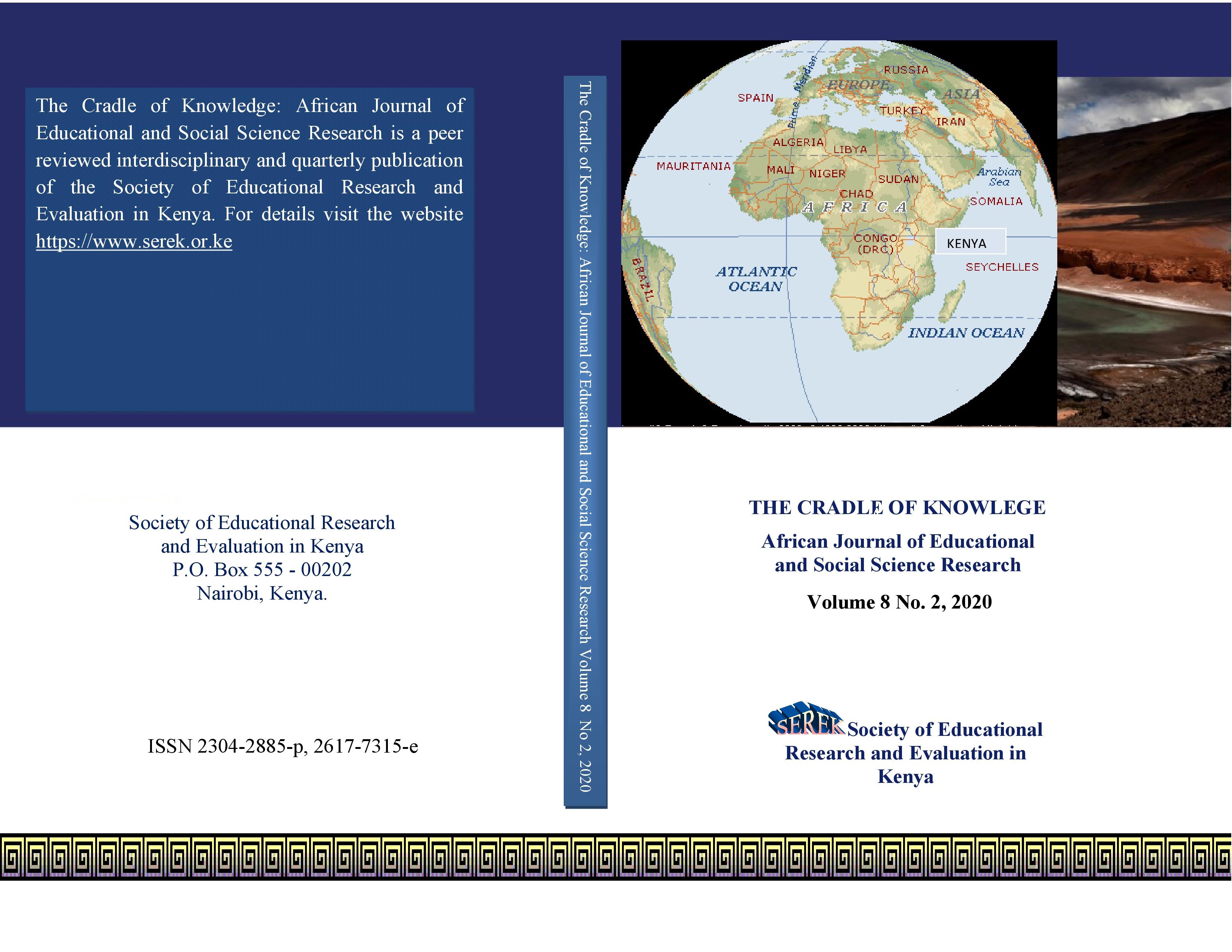 CORONAVIRUS DISEASE 2019 - COVID 19: EFFECTS ON EDUCATION WITH SPECIAL EMPHASIS ON BASIC EDUCATION SYSTEM IN KENYA
Abstract
The evolution of COVID 19 and its effects to education is highly uncertain, making it hard for policy makers to formulate appropriate policy response world over. This article attempts to discuss the effect of Covid-19 on basic education. It is a theoretical desk-top review of literature. In order to understand the effects, the origin, symptoms, spread and the measures taken to prevent Covid-19 have been introduced. The findings show the effects felt so far to include; closure of school, educational Inequalities due to the digital divide, high cost/lack of computer and internet  to parents, anxiety and emotional distress, heightened cases of domestic violence, potential increase in school drops out, child marriage and teenage pregnancies, exposure of vulnerable children to sexual abusers and corona virus, inadequate food provision at home, gender based violence, effects to children with disabilities, economic effects and teachers and other staff salaries/ lay-offs. Positive effects of covid-19 have also been discussed. Suggestions on how schools can re-open include; putting in place the minimum WHO guidelines in all schools, stationing medical personnel in schools for routine monitoring and surveillance, classrooms to accommodate 20 students only, provision of flexible learning approaches for pregnant girls and young mothers, consideration teachers and workers above 55 years with the option to deliver instruction remotely and government to consider constructing Portable Modular Classrooms as they are the best option when schools need more space. This review is important to education theorists and practitioners, government and other stakeholders in the field of education.
Keywords: Pandemics, Coronavirus, Covid-19, Disease, Basic Education, effects
References
Amnesty International. (2020). Domestic Violence: The shadow pandemic.https://www.amnestykenya.org/domestic-violence-the-shadow-pandemic/
Bao, Xue: Qu, Hang; Zhang, Ruixiong; Hogan, Tiffany, P. (2020 May 13th). Literacy Loss in Kindergarten Children during COVID-19 school closures. Doi: 10.31235/os
Bell, Steven. (2017). Research Guides: Discovering Open Educational Resources (OER): Home guides. Temples. edu. Retrieved 2017-12-05
Bryant, J. Dorn, E. Hall, S. and Panier, F. (2020). Safely Back to School after Coronavirus.
Burgess, S. and Greaves, E. (2013). "Test Scores, Subjective Assessment, and Stereotyping of Ethnic Minorities", Journal of Labor Economics 31(3).
Burgess, S and Sievertsen, H. H. (2020 April, 1st). Schools, Skills and Learning: The Impact of COVID-19 on education. https://www.voweu.org
Carlsson, M., Dahl, G. B. Ockert and Rooth, D (2015). The Effect of Schooling on Cognitive skills" Review of Economics and Statistics 97(3).
Communications Authority of Kenya. (2017). "Sector Statistic Report Q4 2017 -18". https://ca.go.ke/wp-content/uploads/
Corinth, K. (2016). A tech revolution for the homeless: taking big data to the streets. In AEI Paper & Studies (p. COVc+). Washington DC: American Enterprise Institute. http://link.galegroup.com.ezp.mesacc.edu/apps/doc/A458953075/ITOF?u=mcc
Daily Nation. (2020 May 13th). Private schools run broke as pandemic effects bite. Article by Faith Nyamai. https://www.nation.co.ke/news/edu
Equality Now. (2020). The shadow pandemic: The Kenya civil society demands concrete action to protect women and girls during Covid-19. https://www.equalitynow.org/shadow_pandemic
International Medical Aid (IMA). (2020). Coronavirus: What you need to know. https://medicalaid.org/
International School Management. (2020). Six Recommendations for Independent School Business. https://isminc.com/
Nyaundi, L. (2020 April, 26th). High online teaching fees outrage private school parents. https://www.the-star.co.ke/news/2020
Njuguna, M. (2020 April, 26th). Kenya Extends School Closure for a Month. https://www.capitalfm.co.ke/news
Open institute. (2020April 16th). Impact of Covid-19 on Kenyans with disabilityhttps://openinstitute.com/impact-of-covid-19-on-kenyans-with-disabilities/
Patterson, J. Chandler, M. Jiang, B. Chan, T.C. (2009). Portable Classrooms: Immediate Solutions to a "Growing" Problem. https://files.eric.ed.gov/
Republic of Kenya. ( 2020). Kenya Basic Education Covid-19 Emergency Response Plan. https://www.go.ke
State Department of Early learning and Basic Education. (May 2020). Kenya Basic Education Covid-19 Emergency Response Plan
Republic of Kenya. (2013). Basic Education Act. No. 14 of 2013.https://africacheck.org
UNESCO. (2020, March 10th). Adverse consequences of school closures." Retrieved 2020-03-15.
UNESCO. (2020, March, 4th). COVID-19 Educational Disruption and Response" htpps://plus.google.com/.
UNESCO. (2020, March, 4th). 290 million students out of school due to COVID -19: releases first global numbers and mobilizes response. Retrieved 6 March 2020
UNESCO. (2020). Covid-19 School Closures around the world will hit girls hardest. https://www.en.unesco.org
UNICEF and WHO. (2020). Key Messages and Actions for COVID-19 Prevention and Control in Schools. https://www.who.int/docs/
United Nations. (2020). Shared Responsibility, GLOBAL SOLIDARITY: Responding to the socio-economic impacts of COVID-19.
University of the People. (2020). What is the Impact of Coronavirus on Education.https://www.uopeople.edu/blog
Weingarten, R., Johnson, L. and DeJesus, E. (2020). A Plan to Safely Reopen America's Schools and Communities Guidance for imagining a new normal for public education, public health and our economy in the age of COVID-19. American Federation of Teachers. https://www.aft.org/sites/default/files/covid19
WHO. (2020). Coronavirus disease (COVID-19) advice for the public.https://www.who.int
Wondwosen T. (2020). COVID-19-Private higher Education faces precarious future. University world News. Africa editionhttps://www.universityworldnews.com/post.
Refbacks
There are currently no refbacks.
This work is licensed under a
Creative Commons Attribution 4.0 International License
.
SEREK publication
https://serek.or.ke
This work is licensed under a Creative Commons Attribution 4.0 International License