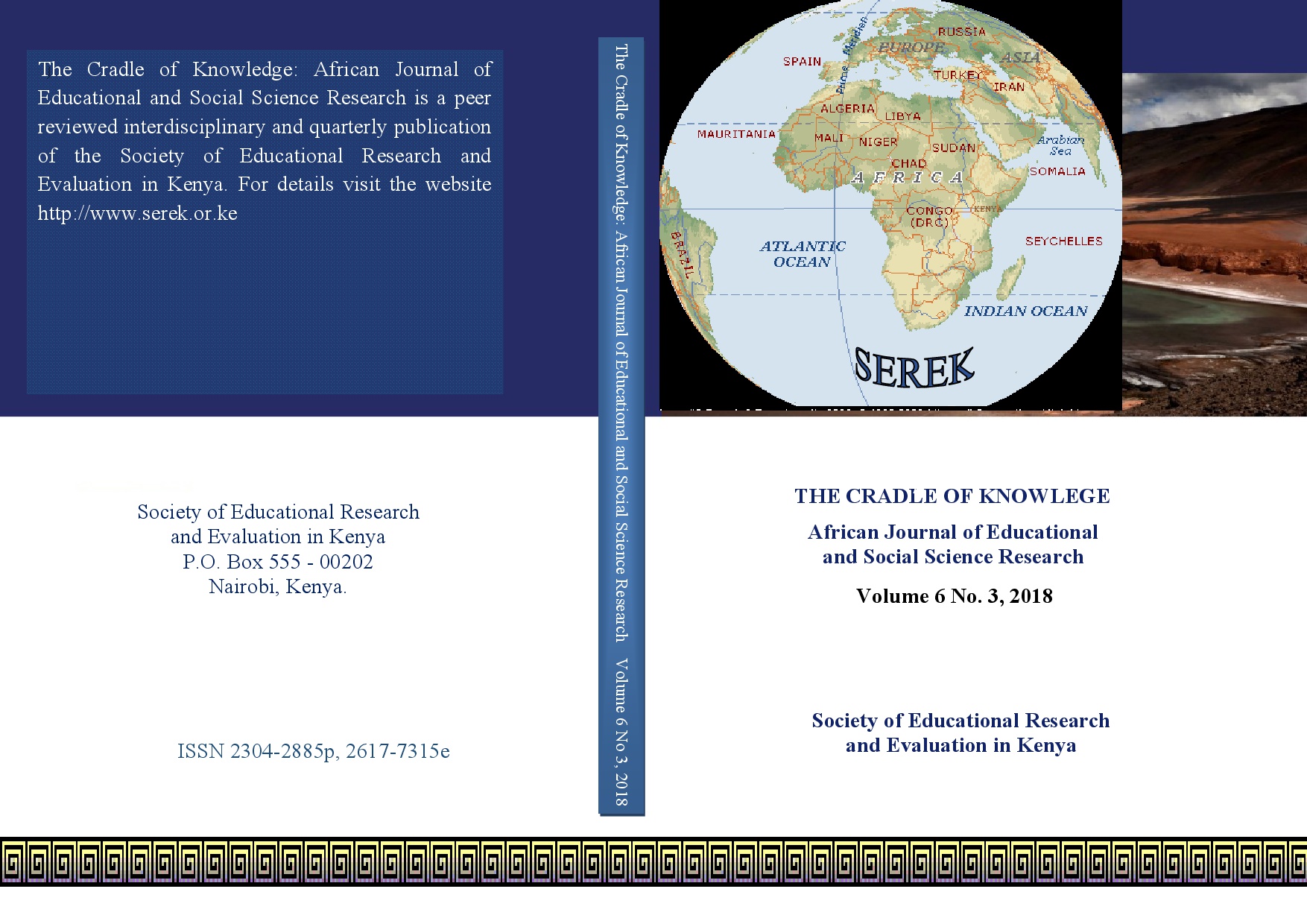 Empowerment of Vocational Training Centers' Trainees, in Bumula Sub-County, Kenya
Abstract
The objectives of the study were to identify the challenges facing public VTCs in Bumula sub County and to establish possible solutions to the challenges facing public VTCs in Bumula Sub County. Therefore, the descriptive survey research design was adopted and it was guided by the theory of cost benefit analysis. To arrive at an appropriate sample sizes, the table of the research advisors (2006) was used basing on a confidence level of 95% and a margin error of 5.0%. Whereby, 16 VTCs out of 16, 260 VTC trainees out of 790 and 4 VTC managers and 24 instructors were selected for inclusion in the study. Data was collected using questionnaires, interview schedules and document analysis guide. Finally, the collected data was coded and entered into the computer for analysis using the statistical package for social sciences (SPSS). This data was then presented in frequency tables, bar graphs and pie charts. The findings of the study was important to the government, the tax payer and for future research in this area of study because it provided feedback about investment in the VTCs and also formed a basis for future research. The conclusions of the study were that some of the challenges facing VTCs which were hindering trainees' empowerment included lack of modern and adequate instruction materials, low academic qualification of the instructors, lack of gender balance, inadequate government support in terms of funding and inadequate instructors.
References
An Introduction to Cost Benefit Analysis www.sjsu.edu > faculty > Watkins > cba
Muriithi, C. K. (2013). Youth Polytechnic Education and Entrepreneurship in Kenya; (Are we Promoting Entrepreneurs?). International journal of academic research in business and social sciences, 3( 5), 491-499. ISSN: 2222-699
Okwemba, V. O. (2014). Equity in access to youth polytechnics by graduates of primary and secondary schools in kakamega county Republic of Kenya. (2008). First medium term plan (2008 - 2012): kenya vision 2030 a globally competitive and prosperous kenya. Nairobi: Government Printer.
Republic of Kenya. (2010). The 2009 kenya population and housing census. Nairobi: Government Printer.
Republic of Kenya (2011/2012) "Skills gap analysis for graduates of youth polytechnics,vocational training centres & out-of-school youth," Regional program for social cohesion and youth employment (YERP). Ministry of
youth affairs and sports-Youth Employment Regional Programme
Republic of Kenya. (2014). Economic survey. Nairobi: Government Printer.
Republic of Kenya. (2017). Implementation of the agenda 2030 for sustainable development in Kenya 2017. Nairobi: Government Printer.
Wakiaga, P. (2016). Economic transformation only possible through local industry. Retrieved from www.capitalfm.co.ke/eblog/?p=6049
w.ww.standardmedia.co.ke
www.un.org
Refbacks
There are currently no refbacks.
License URL:
https://www.serek.or.ke
SEREK publication
https://serek.or.ke
This work is licensed under a Creative Commons Attribution 4.0 International License